About the TARDIS light
The TARDIS (as talked about
here
) has a light on the top, that blinks.
Pointed out by the maker that it resembles the
YouTube - Apple laptop 'sleeping' light
Apple timing:
0:01 - 1:00 -- off
1:01 - 1:15 -- ramp (exponent) up to full brightness
1:16 - 1:45 -- 100% brightness
1:46 - 2:00 -- ramp (exponent) down to off
But in the shape of a ship lamp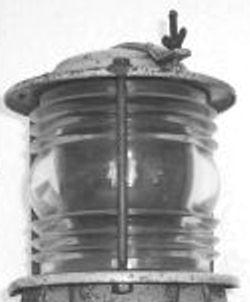 Examples:
Idea is as a low hanging necklace that seems to be made out of both metal and glass.
Useful resources:
TARDIS Builders > Props: Reference > TARDIS Reference > BBC Design Plans
and
Re: Reference Pictures: The Barry Newbery TARDIS (Original) (1976)
Materials thoughts:
the LED is blue light in a clear plastic chunk approximately 3mm x 3mm
the materials choice for the "glass" portion is acrylic plastic
can have real metal for the metal parts, but it'll have to be made by hand, can't cut real metal with think|haus' laser but can cut material that has a metal-like finish but is actually plastic.
Design thoughts:
Maker thought it would work best as a pendant - managing attachment angle to the corset would be hard
and therefore 2 dimensional would likely be best
size, you can do in pretty much any size.... call it 2.5 tall and 2.0 wide.
If we keep it down to under 8 LEDs, you'd get about 48 hours of continuous run time out of a CR2032 battery which typically weigh 3.2g (1/10th of an ounce)
a single battery and ATtiny85v will drive 8 high brightness LEDs (like the stupid bright blue one that's on the front of every external hard drive enclosure)
8 LEDs in a radial configuration from a custom board to appear kind of like a single bulb
LEDs point outward (parallel to the front surface of the project)
applique layer which contains the "metal" component overlaid on the top
Base Layer:
Wedgewood (3.17mm)
Lighted Layer:
Ice Blue (6.35mm)
Lighted Layer encloses (with the exception of the battery area) a 1.5" x 1.0" circuit board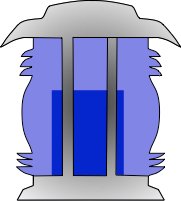 Lighted Layer cover of same material (3.17mm)
Applique Layer:
0.5mm
In total, it ends up being about a half inch thick (13.19mm = 0.52")