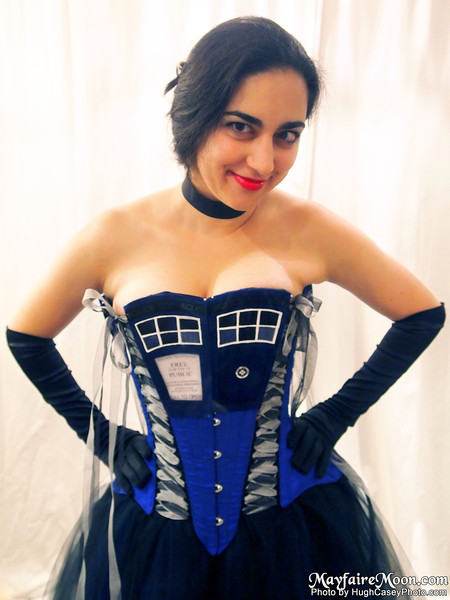 Hugh Casey TARDIS Album
Idea: Make a corset that resembles the TARDIS as a homage to Dr. Who.
The TARDIS corset, in rough-out of the placement for the first panels. When finished, it'll have lights, sounds, and a key. The phone door will be white, and will open. Check for updates as the project progresses both here and at MayFaire Moon Facebook page.

I had a credit with MayFaire Moon to make a corset, my original order was no longer needed, and I wanted something geeky, nerdy, or tea related. She is a fan of Doctor Who, and so am I. When she tossed the idea out I jumped on it. MayFaire Moon found damned good design to do the panels.

The corset will cost you:
$890 – 5 panel with lights and sound
$750 – 5 panel without lights and sound
$790 – 3 panel with lights and sound
$650 – 3 panel with out lights and sound
Contact her here.

See the corset in person:
-Steampunk World's Fair
Click here to see Past events

Learn more about me - Click here.